Latest News
CEB Event and Workshop
CEB Event and Workshop "New enzymes and biomolecules from extremophiles and metagenomes" was held at Bangor University ECW Meeting room 1 on 12th December 2022. It was also streamed via Microsoft Teams.
Professor Peter Golyshin opened the event with introductory remarks to the workshop and a brief overview of the research/innovation at CEB. The specific areas include biotechnology, synthetic biology and biocatalysis based on (meta)genomics of extremophilic microorganisms.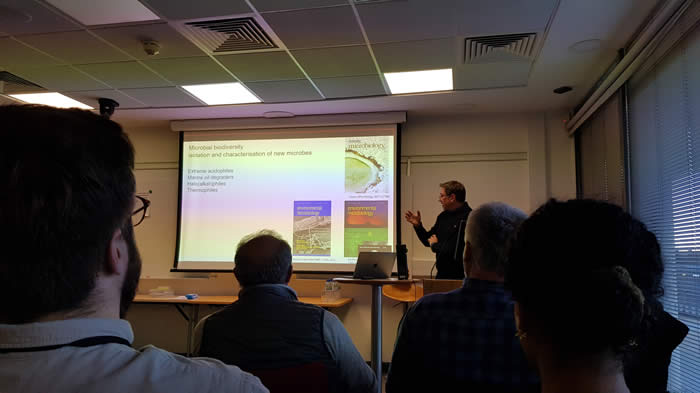 The first workshop presenter was Professor Michail Yakimov, the Director of the Institute for Biological Resources and Marine Biotechnology (CNR) in Messina (Sicily), a high-profile expert in biology of extremophilic microorganisms, with a talk on "Ectosymbiont-host interctions in halophilic archaea".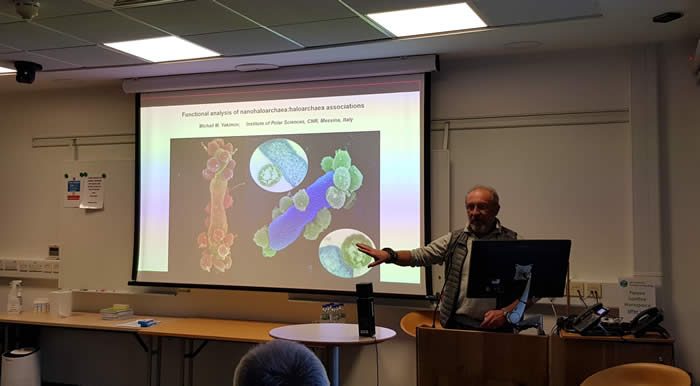 Professor Oleg Reva from University of Pretoria, South Africa gave a talk on "Bioinformatics for biotechnology and medicine".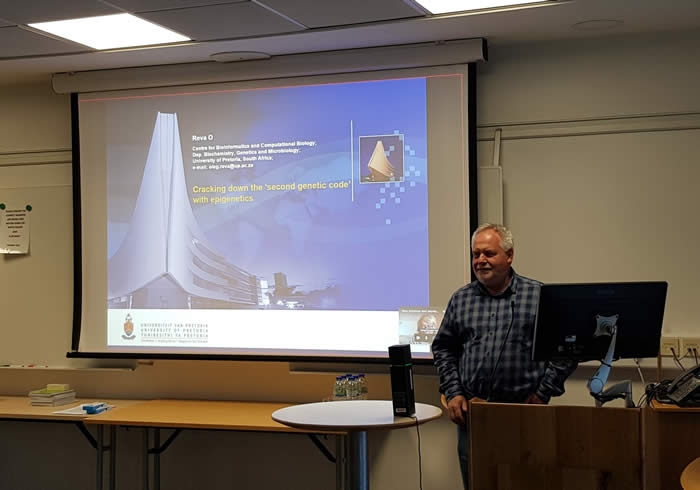 The final talk at the workshop was about "FuturEnzyme project: enzymes, customer products and climate neutrality", by Professor Manuel Ferrer Martínez, Head of the Systems Biotechnology Group in Madrid (https://www.sysbio.csic.es/).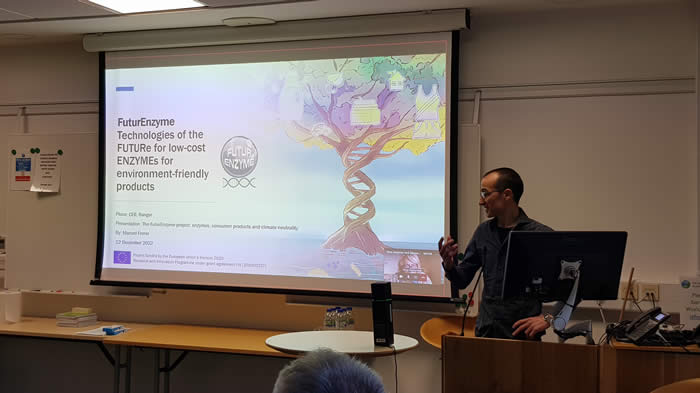 The talks were followed by an open discussion, in which both online attendees and the ones from live audience participated. The workshop was attended by majority of the CEB reserachers, representatives from Academia, Industry and the Funder (WEFO).
15 December 2022
---
CEB is welcoming Dr Mart Krupovic this week
We are excited and proud to host Dr Mart Krupovic, Head of Archaeal Virology Group, Institute Pasteur, Paris at CEB.
Dr Mart Krupovich shared his fascinating work at the latest CEB seminar, talking about
The secrets of lemon-shaped viruses of Archaea.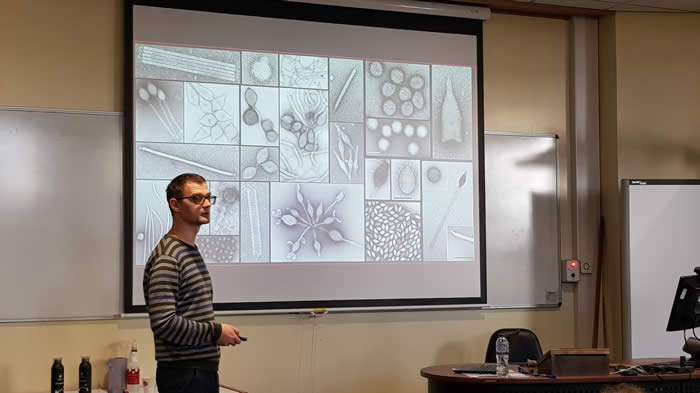 4 November 2022
---
CEB seminar is looking at recent advances in Glycosyl hydrolase family
A Researcher who joint CEB Team recently, Dr Anna Khusnutdinova gave a talk on "Glycosyl hydrolases for environment-friendly products".
This research is a part of ongoing Horizon 2020 "FuturEnzyme" project at CEB.
CEB seminars will be resumed in September 2022.
23 June 2022
---
CEB's guest Professor Michail Yakimov conducts a seminar
This month a speaker at the CEB Seminar series was our guest Prof Michail Yakimov speaking about:
Newly discovered branches of the tree of life
The seminar was held in-person and as an online event (streaming via Teams).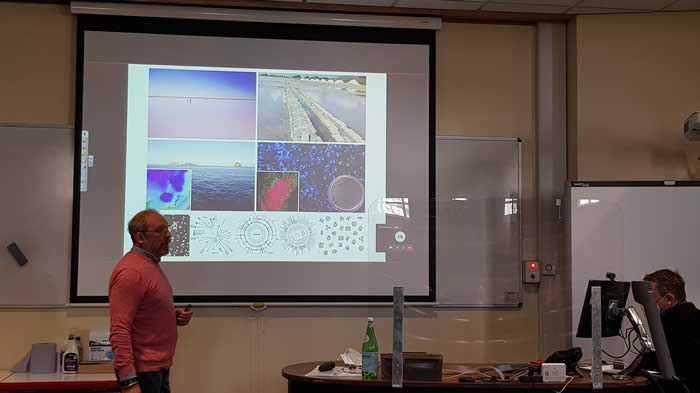 6 April 2022
---
Women in STEM webinar for International Women's Day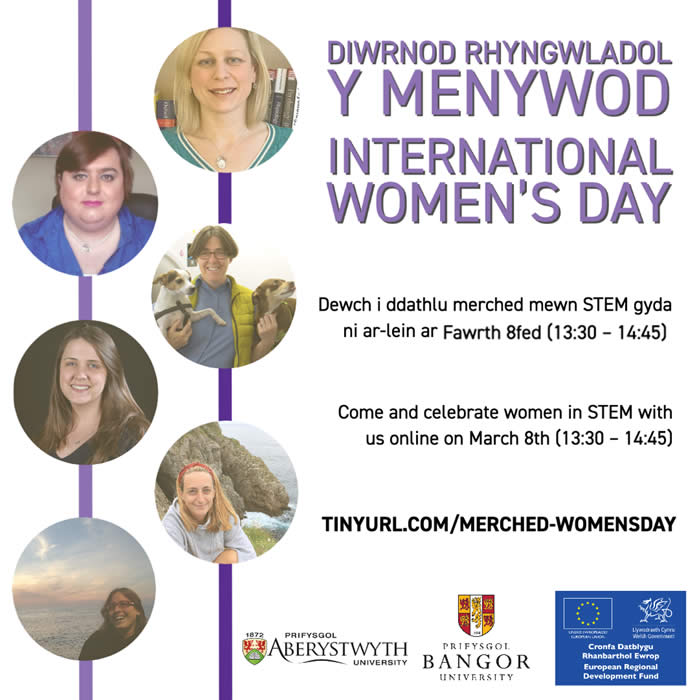 1 March 2022
---
A new paper looking for evidence of life beyond Earth

Jupiter's clouds have water conditions that would allow Earth-like life to exist, but this is not possible in Venus' clouds, according to the groundbreaking finding of new multidisciplinary research (Water activity in Venus's uninhabitable clouds and other planetary atmospheres | Nature Astronomy) led by a Queen's University Belfast scientist with contribution from a Bangor University/CEB researcher.

CEB's Dr Olga Golyshina contributed to this study published in Nature Astronomy as an expert in extremophiles and hyperacidophiles.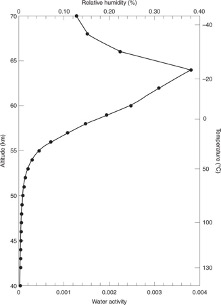 Read more in Life could exist in the clouds of Jupiter but not Venus | Bangor University
10 August 2021
---
A new EU-funded FuturEnzyme project kicked off

CEB is now part of the EU-funded research consortium @futurenzyme (Futurenzyme (@futurenzyme) / Twitter). Our aim is to produce and characterise new enzyme candidates important in industrial manufacturing of textiles, personal care products and detergents.

More environmentally friendly consumer products will be manufactured as a result of work by Bangor University scientists and their project partners. 42 Participants from 16 different European organizations gathered during the kick-off meeting to fine-tune the working plans and establish the different bodies within the project.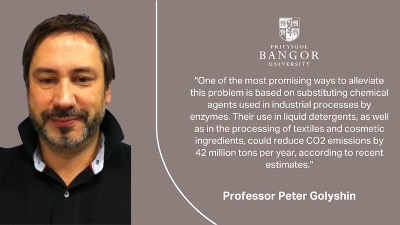 EU-funded multidisciplinary research consortium FuturEnzyme, read more in Microbial enzymes for sustainable detergents, textiles and cosmetics | Bangor University
10 August 2021
---
CEB scientist is invited to be a Guest Editor for Microorganisms Special Issue

Congrats to Dr Olga Golyshina and Dr Michail Yakimov (IRBIM CNR (@CnrIrbim) / Twitter) which are now Guest Editors for the Microorganisms Special Issue (Microorganisms | Special Issues (mdpi.com))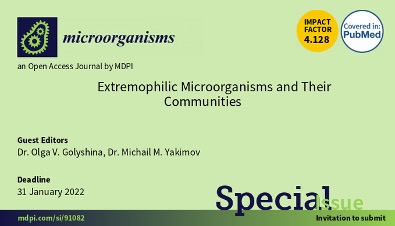 10 August 2021
---
CEB Seminars are now held online
CEB continues to host the Seminar series, run by Dr Olga Golyshina. The seminars are currently held via Microsoft Teams:
Dr Tatyana Chernikova gave a talk on "Marine hydrocarbon-degrading bacteria: the oil-spill clean-up crew" on 24th February 2021
Dr Daniel Chaplin presented "Mass spectrometry for the analysis of metabolites and environmental microbiology" on 24th March 2021;
Dr Rolf Kraehenbuehl's gave a talk "Metabolism - approaches for generating mass spectrometry-driven hypotheses and research" on 28th April.
4 June 2021
---
CEB participated in Microbiology Society Annual Conference 2021 (UK)
Dr Tatyana Chernikova has made a poster presentation on the prestigious conference that is organized by the Microbiology Society (session Marine Microbiology). The conference is now held online.
4 June 2021
---
New paper with CEB contribution
A new paper in Computational and Structural Biotechnology Journal "Structure and evolutionary trace-assisted screening of a residue swapping the substrate ambiguity and chiral specificity in an esterase" - ScienceDirect describes engineering a substrate-promiscuous, yet stereospecific enzyme.
3 June 2021
---
Join us on International Women's Day for talks from Women in STEM
The video is now available on YouTube:
https://youtu.be/32mlNDScQI4
The event was originally held on 8 March 2021 (13:00 - 14:30 GMT)
#IWD #IWD2021 #STEM #WomeninSTEM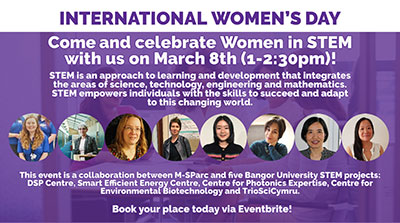 1 March 2021
---
PhD success

Congratulations to Dr Daniel Chaplin who passed his viva with minor corrections. Daniel's thesis is titled "MS, IMS and Computation Studies of Peptide Structure and Enzyme Activity".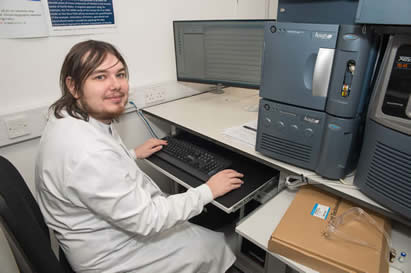 9 September 2020
---
New Paper in Nature Microbiology
A new paper in Nature Microbiology https://www.nature.com/articles/s41564-020-0776-z titled "Dissimilatory sulfate reduction in the archaeon 'Candidatus Vulcanisaeta moutnovskia' sheds light on the evolution of sulfur metabolism" was published by Nikolay Chernyh and Lisa Bonch-Osmolovskaya team (Winogradsky Institute of Microbiology, Russian Academy of Sciences, Moscow) in a collaboration with Prof Peter Golyshin.
17 August 2020
---
Just published in PNAS
Congratulations to Olga Golyshina and Peter Golyshin, Misha Yakimov & team (CNR-IRBIM Messina) and Manni Rohde (Helmholtz HZI) on their joint paper "Symbiosis between nanohaloarchaeon and haloarchaeon is based on utilization of different polysaccharides" https://www.pnas.org/content/117/33/20223 published in Proceedings of the National Academy of Sciences of the United States of America (PNAS).
5 August 2020
---
Sewage testing for Covid-19
Wastewater monitoring at CEB received wide media coverage in March-August 2020.
"Scientists discovered early in the pandemic that infected people "shed" the virus in their faeces. Further research concluded that wastewater sampling could provide a signal of a coronavirus outbreak up to a week earlier than medical testing." BBC.com News - 3/08/2020
Read more news on this research that now has been carried out nationwide by the group of Prof Davey Jones, in BBC News, Express.co.uk and Mail on Sunday:
3 August 2020
---
Success for CEB PhD student
Congratulations to Dr Colin Potter, one of CEB Mass-Spectrometry lab researcher, who successfully defended his PhD thesis "Metabolomic fingerprinting and profiling of plant materials using HRAM UPLC-MS".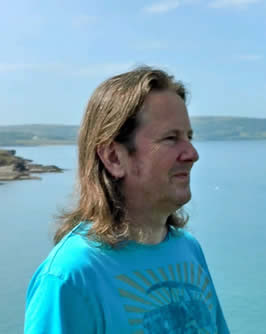 Publication date: June 2020
---
Bangor University contributes to global COVID-19 related research
A team from Bangor University has been looking at samples from water treatment works across UK in a bid to trace how many people have been infected. This NERC 'Urgency' funded project at the Bangor University's College of Environmental Sciences & Engineering will achieve several goals by using wastewater to provide near real-time information on the incidence of SARS-CoV-2 within the UK population.
The project is being carried out in the laboratories of the Centre for Environmental Biotechnology funded by the European Funding Office of Welsh Government (WEFO).
Here an insight into the research project:
National level integrated assessment of SARS-CoV-2 infections in urban areas using wastewater surveillance
Since December 2019, a novel member of the Coronavirus family - SARS-CoV-2 - has caused a pandemic of acute respiratory illness known as COVID-19.. Significant epidemiological uncertainties remain in the response to COVID-19, owing to the prevalence of asymptomatic infections and undiagnosed infections. Recent reports have documented that infection with SARS-CoV-2 is frequently accompanied by persistent shedding of the virus in stools. The detection of SARS-CoV-2 in stool raises the potential to use wastewater-based epidemiology (WBE) approaches for SARS-CoV-2 surveillance and epidemiological monitoring. Indeed, recent reports and our own work has identified the detection of SARS-CoV-2 in wastewater, further supporting its use for WBE. This approach is especially useful given that most infections are thought to be asymptomatic or undiagnosed and are therefore not captured in limited clinical surveillance. In lieu of clinical data, wastewater monitoring can provide critical information on infection dynamics, alerting the public health community to when and where infections are prevalent. Specifically, these methods provide some advance warning, and help with mapping infection spread in the context of limited clinical surveillance capacity.
Prof Davey Jones (School of Natural Sciences) explains the research measuring Sars-Cov2 infection rates in the community using sewage samples on BBC Wales Today.
Read the full article here: Coronavirus: Sewage study could predict second Covid-19 peak
Publication date: 06 May 2020
---
Next in CEB Seminars series
The CEB Seminars series that attracted much interest last year will be continued in 2020, with a new seminar to be held on Wednesday, 29.01.20
Our presenter will be Samuel Wright with the title
Natural herbicides from a renewable feedstock
Venue: ECW ground floor seminar room
Time: 15:30 – 16:00
Publication date: 23 January 2020
---
CEB seminar
The latest CEB seminar was held on Wednesday, 27.11.19.
Jason Tyler gave an interesting talk about his MSc project with the title Isolation of acidophilic archaea, which studies microbial composition of acidic streams in Parys Mountain, Anglesey.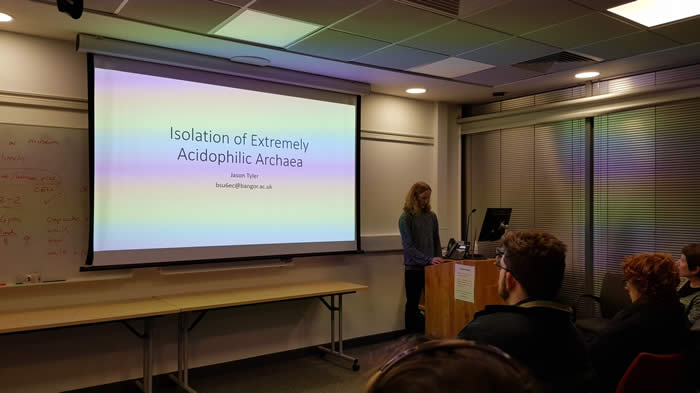 Publication date: 29 November 2019
---
Welcome to Connie, new member of CEB!
Today we warmly welcome Connie Tulloch, new Research Technician and PhD student of CEB! Connie will be working on our Plastic Vector Project looking at the microbial colonisation on microplastics and microbial metabolic capability.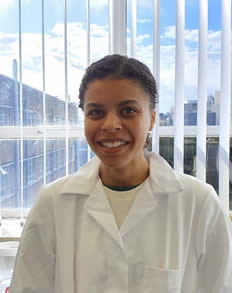 Publication date: 01 November 2019
---
September 2019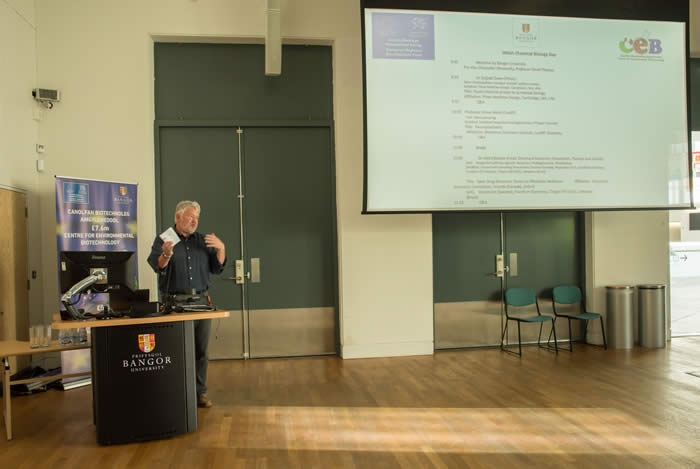 Professor David N. Thomas, Pro Vice-Chancellor for Research opened the Welsh Chemical Biology Day at Bangor University.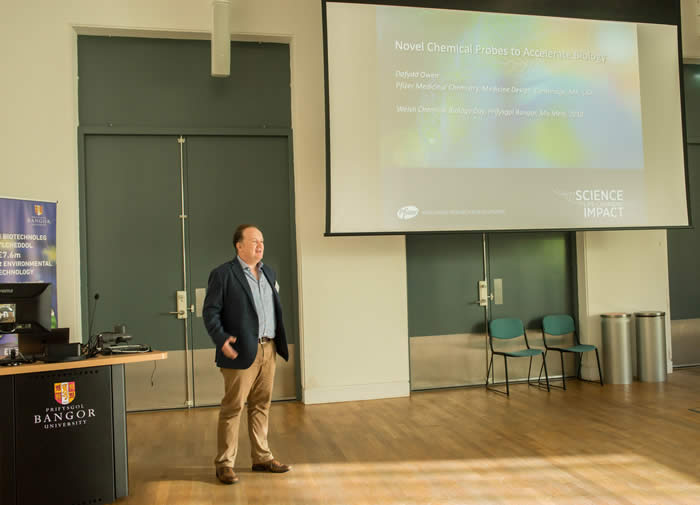 After a short introduction (Samuel Wright, CEB), Dr Dafydd Owen (Pfizer) gave a lecture with a title "Novel chemical probes to accelerate biology".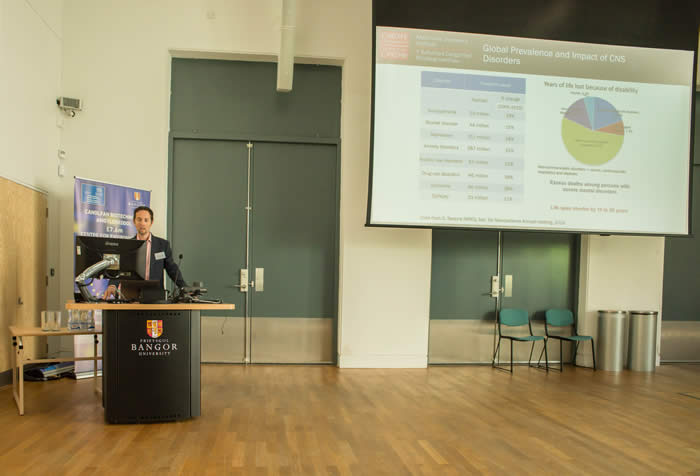 Professor Simon Ward (Cardiff) gave a lecture on Neuropsychiatry, after a short introduction (Gwion Williams, CEB)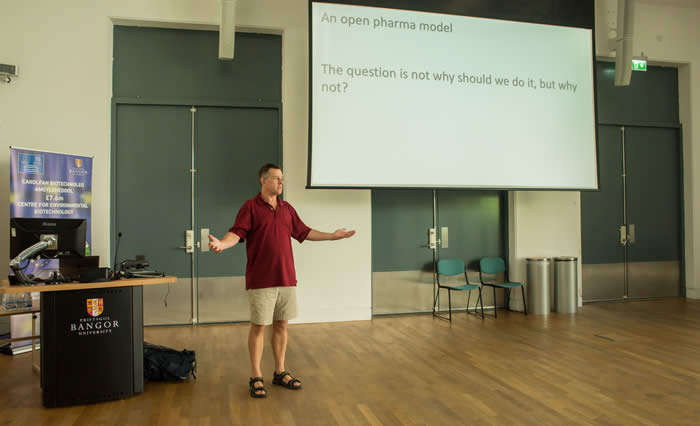 Dr Aled Edwards (Head, Structural Genomics Consortium, Toronto and Oxford), following a short introduction by Dr Marco Distaso (CEB), talked about Open Drug Discovery: Genes to Affordable Medicines.
---
August 2019
Welsh Chemical Biology Day
Friday 13th September 2019
9:00am until 12:00 noon
Venue: Pontio Building, Room PL2
Welsh Chemical Biology Day will take place on 13th September 2019, keynote speakers include:
Dr Dafydd Owen (Pfizer) –
Title: Novel chemical probes to accelerate biology
Affiliation: Pfizer Medicine Design, Cambridge, MA, USA
Professor Simon Ward (Cardiff) –
Title: Neuropsychiatry
Affiliation: Medicines Discovery Institute, Cardiff University
Dr Aled Edwards (Head, Structural Genomics Consortium, Toronto and Oxford)
Title: Open Drug Discovery: Genes to Affordable Medicines
Affiliation: Structural Genomics Consortium, Toronto (Canada), Oxford (UK), Stockholm (Sweden), Frankfurt (Germany), Chapel Hill (USA), Campinas (Brazil)
Specialising in the field of drug discovery, structural biology and proponents of 'open access science'.
There will be a question and answer session following each talk.
This event is free to attend, all are welcome. Please register via Eventbrite
Further information available from: Dr Olga Tverezovskaya (01248) 383587, o.tverezovskaya@bangor.ac.uk
This event is organised by CEB and is sponsored jointly by Bangor University and European Regional Development Fund through Welsh Government

---
July 2019
A new survey on microbial population
CEB team and Russian colleagues are undertaking a survey on microbial populations in acidic systems of polymetallic deposits in historically significant Transbaikal mining region. Study supported by @royalsociety, #РФФИ and @WelshGovernment through @CEB_Bangor
https://www.frontiersin.org/articles/10.3389/fmicb.2019.01573/full
---
June 2019
Next in CEB Seminars Series
The latest CEB Seminar took place on Wednesday 26th June. This month, Lydia-Ann Ghuneim gave an interesting talk on
Beyond the filter: an investigation of filterable lotic microorganisms.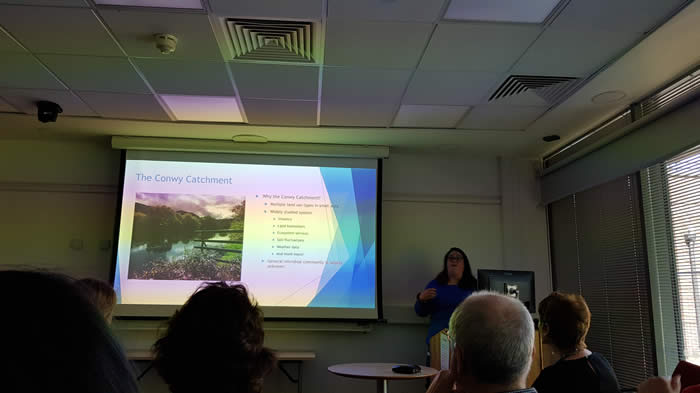 ---
CEB-related Horizon 2020 Project is successfully concluded
Horizon 2020 Project INMARE, led by researchers Olga Golyshina and Peter Golyshin is successfully concluded.
Watch the film and see key facts at INMARE website.
---
A new study of an acidophilic microorganism
A new research paper Diversity of "Ca. Micrarchaeota" in Two Distinct Types of Acidic Environments and Their Associations with Thermoplasmatales by the CEB scientists, Dr Olga Golyshina, Dr Rafael Bargiela, Dr Soshila Ramayah and Prof Peter Golyshin has been published in the Special Issue of Genes, Genetics and Genomics of Acidophiles.
---
May 2019
CEB Seminars Series this month
The next CEB seminar will take place on Wednesday 29th May. Francesca Brailsford will give a talk on
Microbial processing of dissolved organic matter (DOM) in freshwater ecosystems
Venue: ECW ground floor seminar room, Time: 15:30-16:00
---
April 2019
Dr Olga Golyshina gives an invited talk at Society for General Microbiology, 11.04.2019
Olga Golyshina from CEB gives an invited talk on new acidophilic archaea at Society for General Microbiology Annual Conference 2019 in Belfast.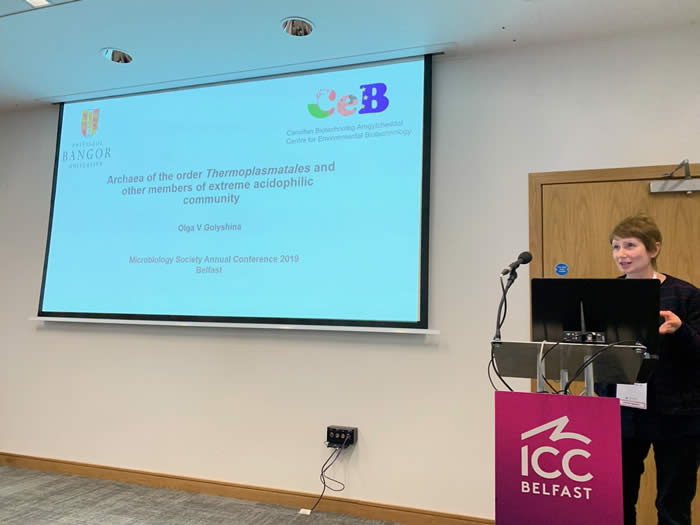 ---
March 2019
Next in CEB Seminars Series
The Seminar series will be continued on the 27th of March. This time, four presenters, Daniel Thomas Chaplin, Dr Rolf Kraehenbuehl, Colin Potter, and Dr Karin Lanthaler will give talks devoted to Mass Spectrometry, with a general title
From metabolomics to proteomics: how can the CEB MS facility assist your research?
Venue: ECW ground floor seminar room, Time: 16:00-16:30
---
CEB-organised Illumina Workshop, 21.03.2019
Jingwen Wang and Jo Stobbs (Illumina, Cambridge) gave a seminar on potential applications for CEB-purchased Illumina MiSeq® system in microbiology, cancer, ecology and evolution research to attract research-active potential users and facilitate their further research grant intake. The presentation was followed by Q&A session. Illumina workshop attracted a large audience of SNS staff members.
---
February 2019
Professor Michail Yakimov visits CEB
CEB hosts Prof Michail Yakimov, the Director of the Institute for Biological Resources and Marine Biotechnology (CNR) in Messina (Sicily), a high-profile expert in biology of extremophilic microorganisms.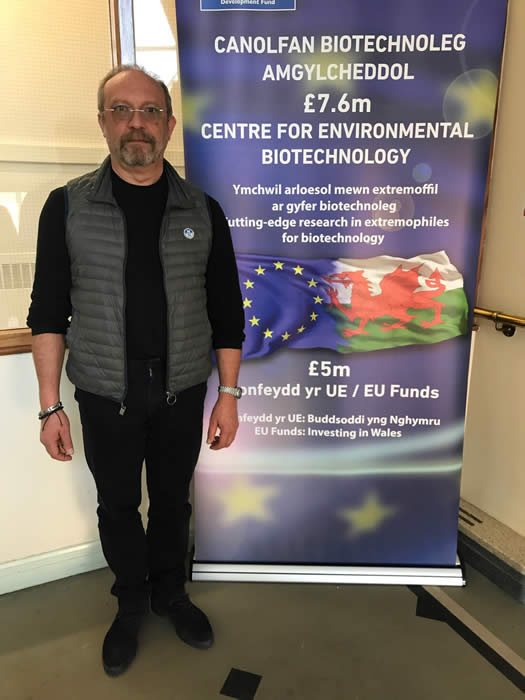 Michail presented a seminar titled "Life on Mars? Why not?" on microbial inhabitants of hypersaline environments (genomics, physiology and interactions) and met members of the College.
---
CEB Seminar Series Will Start This Month
The monthly CEB Seminar series will start on Wednesday 27h February.
This month, Michail Yakimov (CNR, Messina, Italy) will give a talk on
Life in deep-sea anoxic brine lakes, the closest proxies of eventual subglacial lakes on Mars
Venue: ECW ground floor seminar room, Time: 15:30-16:00
---
Environmental Microbiology and Biotechnology MSc by Research
The MSc by Research in Environmental Microbiology and Biotechnology is a one-year full-time programme that differs from a taught Masters programme by placing more emphasis on research, and by being examined much more like a PhD, by viva voce (oral) examination, rather than by grading of coursework and dissertation. This degree will equip you with confidence and competence in the latest research skills (including generic skills such as literature searching, legal and ethical aspects, project planning, grant proposal writing, and statistical manipulation of data) and allow you to apply for further research training (PhD) programmes, or to directly apply for research positions in universities or research institutes.
The first three months will be spent refining your project proposal and conducting a thorough Literature review. You will also present your proposal to the rest of the cohort and supervisors. Feedback obtained will enable you to improve the final project and thesis. You will also be expected to take advantage of the training programme provided by the College of Environmental Sciences and Engineering Graduate School and the University Doctoral School in both subject-specific and generic postgraduate-level skills.
Further details of research specialisms and contact details for staff can be found on the Research pages of the School of Natural Sciences. As well as offering strong support for research activities, the School offers unique opportunities for students to conduct project work under internationally recognised supervisors who are experienced staff affiliated also with CEB.
Specific funded projects leading to this degree are advertised from time to time, but you are welcome to discuss options at any time with potential supervisors.
The examples of subjects of potential projects include (but are not limited to):
discovery of novel enzymes of industrial relevance from extremophilic microorganisms and their communities;
cultivation of extremophilic (e.g. hyperacidophilic) archaea;
microbiology of petroleum degradation in marine environments: cultivation and OMICS studies);
applications of marine oil-degrading bacteria (enzymes, surfactants, biopolymers, osmolytes);
culture-independent (metagenomic) analysis of taxonomic composition and functional potential of microbial communities;
investigation of the role of marine microorganisms and their enzymes in the fate of synthetic polyester plastics
application of proteomics technologies to enzyme discovery (general principles, sample preparation and enzymatic digestion of proteins, LC-MS analysis of peptide mixtures and data analysis (bioinformatics);
application of metabolomics technologies to enzyme discovery (general principles, sample preparation, targeted and discovery mode LC-MS analysis of complex metabolite mixtures and data analysis (bioinformatics);
application of lipidomics technologies to study microbial communities (general principles, sample preparation, lipid extraction, targeted and discovery mode LC-MS analysis of complex lipid mixtures and data analysis (bioinformatics).
Students will also benefit from our extensive local, national and international links with state and private sector organisations.
Entry Requirements
A good first degree (2.ii or above) in a relevant biological subject from a university, or a similar qualification from any other institution. Alternatively, possession of a suitable professional qualification and relevant practical experience may also be accepted. Mature students without a degree but having substantial recent and relevant (e.g. industrial) experience will also be considered.
International Students
For information and further detailed guidance on entry requirements for International Students, including the minimum English Language entry requirement, please visit the Entry Requirements by Country pages on the International Education Centre section of School of Natural Sciences of Bangor University website.
Apply
Applicants must submit a motivation letter with a brief project proposal (max. 1000 words on one of the listed topics).
---
Success for CEB PhD Student
Marco Distaso completed research in "Metagenomics Approaches to Discover New Industrially-Relevant Enzymes".
Marco (below left, with his PhD supervisor Prof Peter Golyshin) was praised for the quality of his theses by his examiners. He will graduate in July 2019.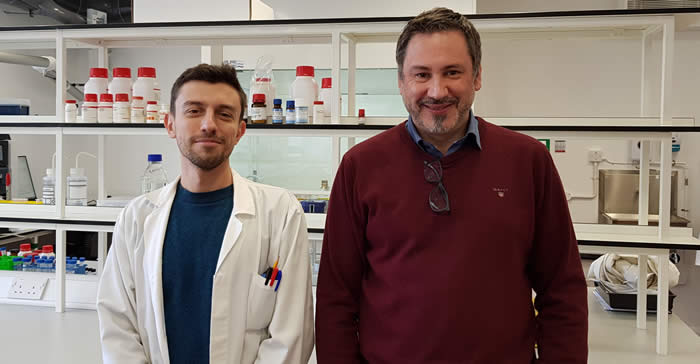 ---
January 2019
A New Research Paper Sheds Light on Archaea Abundance in an Extreme Ecosystem
CEB Scientists Dr Olga Golyshina, Prof Peter Golyshin and Dr Rafael Bargiela found a high abundance of archaea in an extremely acidic mine-impacted environment of Parys Mountain (Anglesey, UK). For more details, follow link.